I was settling into my recluse mode again as I spent my days reading, napping and kayaking as I explored the huge lake. I couldn't even see the opposite shoreline. It was like being on a freshwater ocean. I could paddle for hours and never even leave my end of the lake. It was hundreds of times larger than the lake at home and it could actually be intimidating.
I was drinking a lot and I spent many evenings in various bars. If I had never experienced how small this world really is, I realized it one night as I sat there at a table in the corner of a bar listening to a local band play. I was in the process of drinking myself stupid again, when a blonde woman, dressed in a business suit appeared at the bar trying to get the bartender's attention. Her back was to me and I was checking out her ass along with every other guy in the bar. She was leaning across the bar to be heard over the music and her tight skirt hiked up the back of her thighs. The split in the back of her skirt slightly exposed the curl of her butt cheeks and her thong. She stood back up straight as she nonchalantly pulled the hemline down and motioned to a very dark-haired woman who had apparently come in with her. She leaned over the bar to order as the bartender moved toward her. She was dressed in a pantsuit and had a decent body but nothing like the taller blonde with the fantastic ass.
I just about fell out of my chair when she turned and leaned back against the bar and watched the band play while she waited for her drink. It was Eva. I tried to get her attention but the bartender delivered their drinks and she turned back away from me to pay the tab and collect their drinks. They each took sips off their drinks as they turned back to the band and continued to stand by the bar. I got up and moved around the side of the bar to approach Eva from the side. I put my hand around her waist and bent down and kissed her on the neck. I was expecting her reaction as she snapped around with open hand ready to slap her assailant. She stopped on the back-swing when she saw me. She recognized me immediately and pushed herself against me for a kiss. Her eyes were on fire when she pulled back. She said, "Jack. What are you doing here?"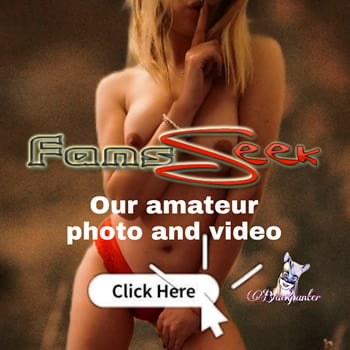 I spoke directly into her ear so she could hear me over the music, "I was going to ask you the same thing." Eva's friend was staring at us with a confused look on her face. Eva introduced me to Martina and she thrust out a hand to shake mine. If it's possible to relate your sexual interest with a handshake, Martina had mastered it. I led them over to my table. I was excited to see Eva and she seemed excited to see me too. Martina just watched us like she was watching a tennis match. She had a bemused smile on her face like she was contemplating some future moment.