We left with the ring in a hinged royal-blue velvet box safely in my front pocket. Frankie drove us to the park. I gave her directions to our 'spot' and we carried the urn and a blanket through a small patch of trees about a hundred feet from the edge of the lake. I spread the blanket in the same spot Anna always did. There was no one in sight. I set the urn in the grass and laid down on the blanket. Frankie laid down beside me and spread the flowing hemline of her dress around her. We watched the clouds pass by and commented on how one or another looked like an animal. We got laughing about some of the absurd comparisons. I was quiet for a while with my hands behind my head. Frankie read my mood and she got quiet too.
My mind was drifting in the past when Frankie rolled on her side close beside me and put her hand on my chest. I looked over at her and she had the sultriest expression on her face. She ran her hand down my torso and onto my crotch. She didn't wait for me to attempt to interpret her motive. She came up on one elbow, looking down into my face and said, "Make love to me. Right here where you made love to Anna."
Frankie was taking a chance on how I would react to her request. The 'make love to me' was risky enough but the 'where you made love to Anna' risked a total rejection. I gave the whole request just a moment of contemplation before rolling on my side toward her and pulling her lips to mine. We kissed tenderly and it was only moments before we were frantically searching for places to kiss.
Frankie's hand yanked open my belt and she fumbled with the button, so I helped her. She didn't even bother with the zipper as she shoved her hand down my pants to find my rock-hard cock. We were both already gasping for oxygen as I kissed her everywhere. When I found her neck under her ear, she let out a guttural groan and pushed herself down my body and quickly unzipped my pants and shoved my cock in her mouth. She was groaning non-stop as she furiously bobbed her lips on my cock. She was in-heat and I dropped my head to the blanket and thrust my hips up at her as I started moaning.
I was in heaven and I let her go without concern for whether I'd have anything left for her. I knew I could make love to Frankie until she couldn't take it anymore. She sucked a climax from me and she groaned and gagged and coughed on the huge load that I deposited in her mouth.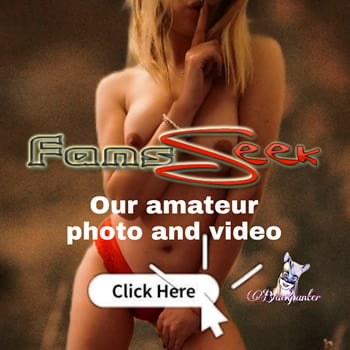 As soon as I was done, Frankie furiously started sucking on my cock until it was rock-hard again. When she dropped down on her back beside me with a pleading expression on her face, I sat up and pulled my shoes and pants off and then my shirt. My cock was so hard, it hurt. I unfastened the several front buttons of Anna's navy-blue, polka dot dress and laid it open to her sides. She wasn't wearing a bra. I looked down at her fantastic body. She lifted her hips as I pulled her thong down her legs. She was frantic as she sat up and pulled the sleeves of her dress off. Her eyes were on fire as she looked up at me and said, "Please. Hurry. Oh my God Jack. Hurry. I need you, now."