She asked how I was and why I was in town. I mostly lied. My shopping for an engagement ring and the disposition of my wife's ashes while I had spontaneous sex with her younger sister were none of her business. I mentioned that Jackie, her receptionist seemed to know a lot about me. Eva's face reddened and she confessed that she had told Jackie about our tryst at the lake with her sister, Beverly. She explained that she had gone into some explicit details figuring that she'd never see me again anyway. That explained a lot.
Eva said, "When Jackie came to tell me that 'The Jack' was in my office, I thought she was going to have an orgasm right there in the meeting. Her face was flushed. I just hope we can get our business done before she barges in and joins us." She was examining my face and then my crotch for my reaction. She smiled and said, "I see that excites you. It excites me too." She was unbuttoning her tailored shirt as she stared at the bulge in my pants. Her nipples were rock-hard and pressing firmly against her lacey bra. She pulled the shirt tails out of her skirt and ran her palms over her nipples and groaned from the contact. I just watched.
She unbuttoned the cuffs and slipped her tailored shirt off and laid it on top of the jacket in the chair beside me. She reached behind her and in one deft motion, her bra slid down her arms to expose her big breasts. She gave me a sultry grin and pushed her tits together with her upper arms. Her eyes were on fire as she unzipped her skirt and rocked her hips from side to side as she slid the taylor fitted skirt down over her legs. She was wearing a soaking wet thong, garter belt and thigh high nylons. I was sure my cock would explode right there just from the vision before me. I mumbled, "Holy shit," and she smiled from the obvious compliment. She pulled down the thong but left the garter belt and nylons on, along with her four-inch heels.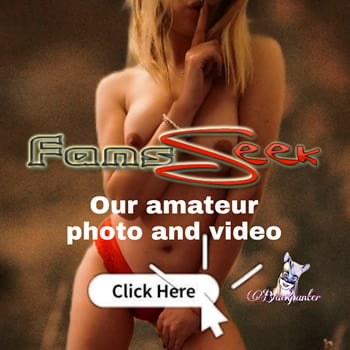 She offered me her hand and I took it. She pulled me up and pushed her nearly naked body to me as she fumbled with my belt and zipper. I didn't offer to help. She stretched up and sucked my lower lip between her teeth and she gently nibbled on it. I heard the zipper and felt her fingers wrap around my cock. With my lip still between her teeth she mumbled, "Holy shit." We both laughed. We kissed as she began jerking me off. I ran my hands down over her shoulders to her tits and palmed her nipples, which caused her to tremble. I continued down her sides to her hips and then around to her fantastic ass and pulled her sex against mine. She moaned as she dragged my glans over her clitoris.