We finished and the owner presented the bill saying that the Tiramisu was on the house. I paid and left a large tip. I helped Donna out of her seat and she stumbled a little. She explained that she was feeling a little weak in the knees and she took my arm as we went out to the car. I hadn't started the car before she said, "Take me to your house? I'm anxious to tell Sylvia but I want you all to myself tonight. Okay?" I filed that last statement away.
I smiled to myself in the darkness before the dash lights came on. This was my plan but I'd let her think it was her idea. Before I could get through the gears, Donna was kneeling in her seat with her chest on the center console, with her ass in the air, sucking on my cock. She was bobbing her head at a furious pace. She knew the ride was only going to be ten minutes and she apparently wanted my first deposit of the night before we got home. I had to extend the drive by a few minutes or kill us both on the curvy back-country roads. Donna increased her suction as my cock hardened. She pulled off the crown and mumbled, "Give me that cum," and drove all the way back on again. I had to stop the car in the middle of the road as my leg muscles went rigid and I groaned, "AAWWWWGGGGG," as my load poured into her mouth. She swallowed like she was drinking from a firehose.
When she was sure I was done she pulled back and wiped her lips with the back of her hand and said, "Holy shit Jack. That was a load." I was still humped up with one last shot when she dipped her face in to dip her tongue in the 'eye'. Instead, she got a shot right in the face as I groaned out, "GGGUUUUHHHH." She pulled back as fast as she could and looked at me in the dim illumination from the dashboard and started laughing as she ran her fingers across her face to assess how much cum was there. She giggled as she said, "Wow. You must have been saving up all week for me." I didn't respond.
When I pulled into my driveway, she saw Eddie's car and she said, "Shit. Eddie's still here? I thought he was moving to his apartment."
I laughed as I pulled into the garage, "He's here for another week. He's rented a cabin on the lake for the winter instead of the apartment. Don't fret; he's next door for the night. I didn't elaborate on why." I came around and opened her car door and I had to chuckle to myself as Donna was carrying her left hand like she needed a wheelbarrow to assist with the load. I remembered that Anna had done the same thing.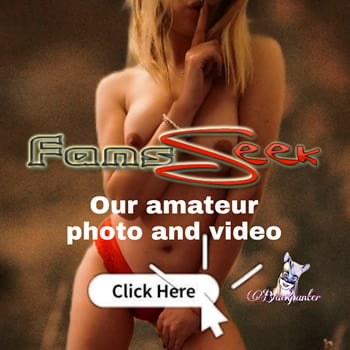 Donna hadn't put my spent cock back in my pants when she was done. The air was cool and pushing cold. Donna pulled her shawl around her shoulders and I pushed my cock back in my pants and noted that cum spray covered my pants.