The fact that Jacob had bugged Priya's living room wasn't lost on me. I had asked him not to and he had consented. I chose not to call him on it at the moment. He was so excited about what he had recorded that he hadn't remembered that conversation. Donna was jerking on my completely erect cock as we kissed. Jacob couldn't have missed what was going on but he turned to look at the screen of his laptop again. Donna broke our embrace and turned back to the screen. She watched all three videos for a few moments and then pointed at the top right screen that was blacked out and said, "What's that frame show?" Jacobs face went white and we both saw the transition. Donna said, "Play it." Jacob looked up at me with a pleading expression on his face and I looked sternly at him and nodded. I had a sneaking feeling. Jacob gulped and hit a key. The black frame started playing. To my horror, it was the view from my ceiling fan again. I couldn't believe that he put the camera back at some point. He looked up at me and mouthed the word, 'Sorry." In its small frame it was hard to see what was being displayed and I bent forward to get a better look. I would have told him to put it on full screen but I was afraid of what it would show.
Sure enough, it was of me and Priya the night before last. Donna bent forward and hit a key and the small displayed frame jumped to full screen. I was dying a thousand deaths as I watched Donna staring intently at the screen. She looked up at me and said, "She looks like the girl from the diner. Her mother?" I guiltily nodded. She really started jerking me off then. Donna was getting turned on by these videos, especially the one currently on the full screen.
Then the screen went black for an instant and the scene changed to a naked Donna pushing me up to the edge of the bed as she crawled up in my lap. Donna looked up at me again with a totally unexpected grin and said, "That's us. Fuck. That's hot." Her face was flushed with sexual heat as she turned to Jacob and said, "Can you excuse us for a few minutes, please?" Jacob started to pack up his laptop but Donna stopped him and said, "Can you put that to record here?" He nodded and pressed a couple keys and the full screen display changed to my bedroom with an unmade bed. "Come back in a half hour or so. Okay?"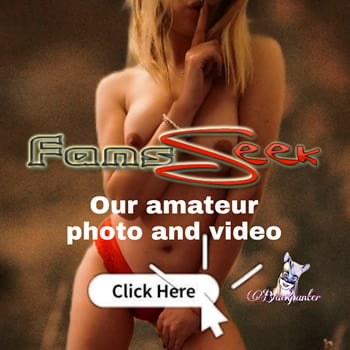 Jacob looked up at me and I just nodded. He stood up and hastily made his way through the kitchen to the hall. He had turned the corner when I yelled out, "Hey Jacob?" His face appeared back around the corner. "Make it an hour. Okay?" He smiled and disappeared. I heard the front door open and then shut. The sultry look on Donna's face told me everything I wanted to know. She grabbed the laptop off the table and headed for the bedroom towing me behind her by my cock. She set the laptop on the bureau at the foot of the bed. She shed her robe and got up on the bed and stood up looking up at the ceiling fan. She glanced down at the laptop and could see her face in closeup looking down. She said, "That's incredible. You can't even see the camera and I have to be looking right at it. I could see a distorted fish lens, wide-angled close up of Donna's face on the laptop screen.