We hadn't seen Eddie for days and we just assumed that he was staying with Sylvia. Donna and I had a few serious conversations over the past few days about where we would live. Her house or mine. I didn't want to give up the lake but my house was a fraction the size of hers. I wasn't crazy about living in the same house with Sylvia though. I could easily imagine her taking on a role of substitute wife; in bed and otherwise. I kept that concern to myself. Donna loved her sister dearly and perhaps even more than she loved me. I wasn't going to risk pushing the issue.
If my house on the lake turned out to be too small for her, I'd sell it and buy or build a larger one on the lake. We settled on living in my house, so, she had to get all of her clothes and other stuff from her house and we drove my SUV there that afternoon. Both Eddie's and Sylvia's cars were in the driveway when we arrived. Donna unlocked the front door. No one was downstairs. They were probably upstairs in bed.
We both went up the stairs and quietly made our way to Donna's bedroom and gathered the clothes she wanted from her closet. We could hear the moaning and groaning coming from Sylvia's bedroom next door and Donna giggled and pushed herself up to me and rubbed my cock through my pants saying, "Does that turn you on?"
With my dick growing under her fingers, I pretended that the sounds had no effect on me and said, "Your hand on my cock sure turns me on." I kissed her and ran my palms over her obvious, erect nipples. I took the clothes she had collected and carried them out to my car. When I returned, Donna was standing in the hall at Sylvia's bedroom door with her ear pressed against it. When she turned to look at me, I recognized the sultry expression on her face. She was very horny and my cock pushed hard against my zipper and it turned out that my zipper is just where Donna was looking. She looked up from my crotch to my face and grinned before returning her gaze to my crotch.
I motioned for her to come away from Sylvia's door and she reluctantly turned toward me and took one step away from Sylvia's door as it opened and a naked Sylvia stood there. Her face was flushed deep red. Her nipples were rock hard and her neatly trimmed blonde pubic hair was sopping wet. She looked at Donna and then looked down the hall at me. Then she said, "Don't stand out here and listen at the door. Come on in and join us."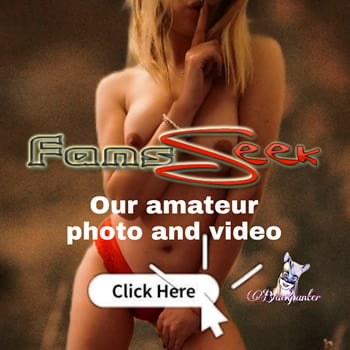 Donna looked at me for permission and I shook my head. Donna took a step toward me and Sylvia grabbed Donna's arm. Donna stopped and looked at Sylvia and then at me and again I shook my head. Donna looked back at Sylvia and eased her arm from her grip and walked toward me. She looked back at Sylvia as she turned the corner into her room. We finished our task and left to the renewed moans and groans from Sylvia's room. Donna's face was flushed with sexual heat but I was proud of her for resisting her older sister's insistence.