Eddie continued slurping and sucking as he flicked his tongue all around her sex. Sylvia muttered, "Oh fuck. YES. I'm gonna cum again. OHHHHH JESSSSUUUUSSSS." She thrusted her hips at Eddie's face. The pace of the slurping and sucking noises increased. Sylvia's facial expression locked tightly in a grimace like she was in intense pain. She grabbed her tits through her dress. Her teeth were clenched tight and her hips pulsed strongly against Eddie's face.
It was neat to watch Sylvia's face morph from that grimace to one of pure serenity. She slowly settled back in her seat and Eddie pulled his face out of her sex and then kissed her clitoris and she surged forward as air exploded from her lungs again. Eddie sat back in his seat and I could see Sylvia's juices glistening on his face as we passed street-lights. I grinned at Donna and noticed that she was strumming her sex under her dress. She noticed me glancing at her and I said, "I guess I owe you one."
She grinned back at me and said, "I'll take what I can get, as often as I can get it." I turned onto her street and parked next to her BMW. I shut off the engine and other than the rapid ticking from the hot engine, it was completely quiet and no one moved. In stereo, Donna and Sylvia both said, "Can you come in for a night-cap?" I didn't need another drink, but I knew what 'night-cap' could be code for. I looked in the rearview mirror and Eddie's eyes were pleading with me to say "Yes." He obviously knew the code too. Eddie and I both responded with a simultaneous "Okay" and that got everyone laughing.
Sylvia and Donna both played the 'night-cap' ruse to the hilt and led us back to the study to the bar. Sylvia turned to Eddie and said, "What can I make for…" Eddie cut her off in mid-sentence as he circled his hands around her slim waist and pulled her to him. Their lips were all over each other in a frenzy. Their passion was leaking over to Donna and she looked at me with a sultry expression and without a word took my hand and led me out of the study and up the circular staircase to her bedroom. We didn't make it to the bed before we were all over each other in a frenzy of our own.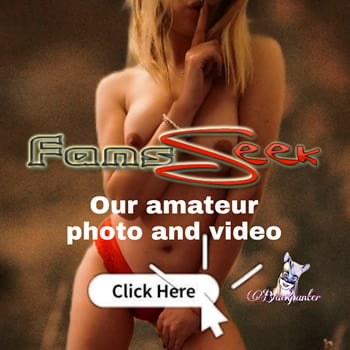 While still in a passionate embrace, Donna yanked open my belt and unzipped my pants. Before they hit the floor, Donna's hand was stroking my hard cock. My hands were all over her body as our lips searched. I found her neck and she moaned hard and pulled her head back. I nibbled on her ear for a moment and exhaled my passion and Donna moaned again. She was frantically trying to get her dress down her arms. When the flimsy material dropped, she was standing there completely naked except for her high-heels. The no panties, I already knew. I was surprised that I hadn't noticed that she wasn't wearing a bra. Her nipples were as hard as nails.