As we all got ourselves cleaned up and put back together again, Sylvia got laughing again and Donna hugged her and joined in her laughter. Eddie stuffed his soft cock back in his pants and gave me a high five. I intentionally missed his hand and he got laughing and turned on the faucet and washed his hands. I did the same after stuffing my cock back in my pants.
When we were all ready, I unlocked the door and was pulling it open just as a woman pushed on it from the other side. She staggered into the bathroom and her eyes went wide when she saw two men and two women standing near the door. We smiled and left leaving her staring at us as the door shut behind us. I wondered how long it would take her to figure out what we were doing in there. The closed space reeked of sex but it wasn't our problem.
When we made it back to our table our waiter was poised to renew his service. He gave me a thumbs up and came over to take our order. Sylvia got giggling. Her face was red from embarrassment because she knew that the waiter knew. How could he not know? We'd all disappeared toward the rest rooms for forty minutes. I doubt that he thought we were watching the ball game in the lounge. Regardless, Sylvia couldn't look up at the waiter for the rest of the evening. She talked to the menu to place her order. Donna got laughing at Sylvia's embarrassment.
The food was amazing. Eddie and I agreed that we should come back. Sylvia kept shaking her head and saying, "No. No. No." Donna got laughing so hard that Eddie and I joined her. Sylvia's face reddened even more. We declined dessert and Eddie and I split the bill. I paid for the Champagne separately.
We took a table in the piano-bar and ordered another round of drinks. Donna and Sylvia sat in cushioned chairs across the knee-high table from Eddie and I with their backs to the bar. It quickly became clear why they had maneuvered the seating that way. Neither of them was wearing panties and they were sitting with their legs spread as they pulled the hems of their dresses up higher until we could see their pussies. We made it a point to look and the girls got laughing at the exaggerated expressions on our faces.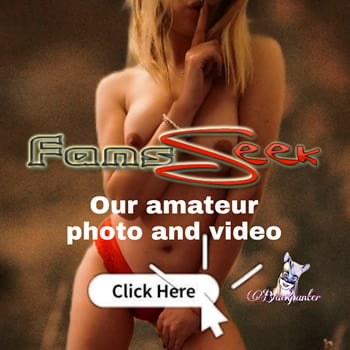 We all agreed that we were wasting possibilities sitting there so we paid the bill and returned to the car. I had barely got out of the parking lot before I heard Eddie's zipper. I adjusted the rearview mirror so I could see Sylvia drop her head into his lap. She pushed her head down and Eddie mumbled, "Oh my God," as his head fell back against the headrest. Sylvia's head began bobbing up and down in Eddie's lap and his hands moved to the top of her head. Eddie was groaning non-stop and Sylvia was making that "AAAWWWKKK.. AWWKK," noise as she shoved her open mouth down his cock.