I introduced Eddie to Sylvia and vice versa. I had to whisper, "Eddie. Reel your tongue in. You're embarrassing me." I was exaggerating about his tongue and he frowned at me.
Eddie moved in close to me and whispered, "Fuck, Bro. She's gorgeous." I just smiled and looked back at Sylvia and Donna who had moved off to the side of the bar and Sylvia leaned into Donna and whispered. I was closer to them than Eddie and I heard Sylvia say how hot she thought Eddie was. I had a feeling that this was going to be a night to remember. Donna smiled at me and poured herself a glass of Perrier. I poured myself a Perrier too. I was driving and an afternoon of drinking beers with Eddie wouldn't go too well if I was pulled over.
We had our one drink and then got in my car. Donna road shotgun while Sylvia and Eddie got in back. We had an hour drive to the restaurant. I kept checking on how Sylvia and Eddie were doing in the rearview mirror. They were engaged in their own conversation and both seemed very comfortable with the other. Donna and I carried on our own conversation. Talk of her pregnancy never came up in front of Eddie. I was thankful for that because I didn't want Eddie carrying on and teasing me about it. He could be brutal if he found a thread to pull on.
We were almost there when I looked back in the rearview mirror and Eddie and Sylvia were kissing. 'Wow, that was fast,' I thought. Donna leaned across the center console and whispered, "Eddie is a hit. They're back there kissing already." I nodded and glanced in the mirror again. Donna's hand came off the console and slid across my crotch. She found the contours she was looking for and pinched my dick and it responded instantly. She gripped the outline and grinned at me when I glanced over at her. She giggled and said, "My ever-ready bunny."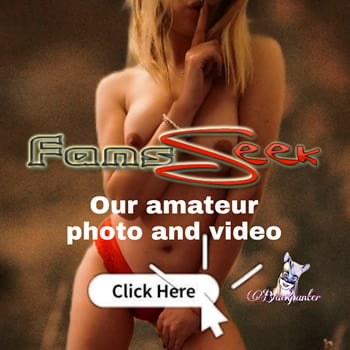 I pulled into the parking lot and found a spot close to the front door. Donna took one final opportunity to run her hand down my cock through my pants. I leaned over and kissed her as she stretched up to meet my lips. Donna and I got out and closed our doors and started toward the front door. There was no hint that Eddie and Sylvia were following so I turned around and went back to the front of the car and banged my fist on the hood. The flood lights in the parking lot revealed that they were in a heavier embrace. I banged on the hood again and I heard Eddie mumble, "Okay. Okay." Their doors opened and they got out. Sylvia's face was flushed red and her lip-gloss was smeared. She was working on getting her clothes straightened out. Eddie was stooped forward as he came down his side of the car. I knew, from my own experiences, that he had an erection that he was he was trying to get under control. Thankfully, I had already gotten my own erection under control.