Cuckhold, Policeman uses slut wife while hubby watches
My wife and I live in the mountains far from town so when we get together with friends we meet at their houses in town. We played poker with some friends of ours one night after work and didn't leave until about 10:00 at night. It's about an hour drive home and my wife was feeling a little horny. So one could imagine why I was in a bit of a hurry to get home.
My wife is 5'7″ and about 140 pounds. She truly exudes sexiness and eroticism with her body and movements. Dressed in five inch heels, her luscious long legs are defined and athletic with a beautiful tan. She lays out nude three or four times a week and doesn't have a tan mark anywhere on her body. Her pussy is shaved daily which leaves a smooth and prominent mons. Beyond this awe inspiring pussy lies broad hips tapering to a small, narrow waist and tight, flat abs. Her ass, with the right amount of muscle, has a perfect round shape which you can tell could take a good pounding. I just love to fuck her from behind and see her soft long wavy blonde hair cascading down her tight torso to her waist. From this position I reach around to grab her firm 34B tits which fit her frame wonderfully. We are an open couple and guys have said in the past that she looks like she was built for fucking.
After exiting the freeway we have about two miles of dirt road and this night I was going fast enough to slide in the corners. My wife had unbuttoned her thin, gauzy, white shirt and removed her lacy bra. She had her right foot with her high heel shoe up on the dash. Her short denim skirt was pulled up exposing her bald pussy as she rubbed her clit lightly. I was looking at her pussy and then suddenly I looked up and saw a sheriff truck behind me with red and blue lights on. I pulled to the side into a big dirt area off the narrow road. My wife got her skirt pulled down and put the shirt together although was not able to button it up. When the deputy walked up to my window he asked for my license, registration and proof of insurance. I handed him the things he asked for and then he asked me if I knew why he had pulled me over. I told him that I might have been going a little fast on the dirt road. Then he informed me that the speed limit is 35 and I was clocked at 55. In addition to speeding, sliding in the corners is reckless driving. The deputy was 6'1″ and about 250 pounds. His shoulders were wide and he was likely in his late forties. He had a full head of dark straight hair with a little gray mixed in. What first caught my attention was the size of his forearms, although he was a little overweight, you could tell he was hard as steel and probably strong as an ox.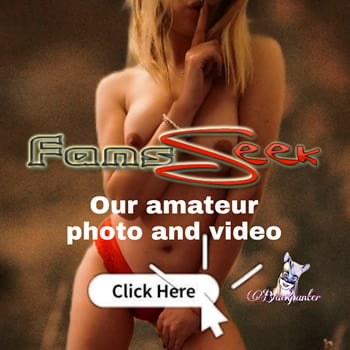 He looked over at my wife and asked if she was okay and why her bra was on the floor with her shirt undone. She said, while blushing, that she was horny and it was why my husband was speeding. I asked if there was any way for him to let us go and he just stared at me for what seemed like a whole minute with an intimidating look on his face. Finally he said to me that if my horny little wife would get out of the car, and we did as we were told, that he would forget the whole thing. I looked over at my wife and she shrugged her shoulders. I asked her if she understood what was going to happen in a very whispered and slurred voice so the deputy would hopefully not hear me. She said she was okay with it if I was.