The bartender came over and placed my drink on the bar in front of me.
"Charge it to your room Sir?"
"Yes please, Room 3205." I replied.
I took a sip of my Manhattan and glanced at my watch. 2:15 pm, probably a little early to be drinking a Manhattan but I had just walked away from a blackjack table with a couple grand and felt like celebrating. I was sitting at the Taughannick Falls Bar at Mohegan Sun on the second day of a three night stay. The Falls bar is one of my favorite places to sit and people watch. Located between two of the casino floors and at the base of the escalators leading to the hotel lobby there was always a lot of activity. During a weekday afternoon it is mostly the 60s and over crowd playing the nickel slots and looking for free drinks. As the evening wears on the crowd gets younger, drunker and the females dress much more sexier. That day was no exception, the midday crowd of was gradually getting younger and hotter. It was a Friday so the place would really be hopping in a few hours.
I took another sip of my Manhattan, leaned back in my seat and began to scan the crowd. When my gaze got to the escalators leading down from the hotel lobby I saw her. The red hair first caught my attention; a fiery red, almost orange, flowing down past her shoulders. She was wearing a tropical flower sun dress and wedge sandals. I could not take my eyes off of her as she rode down the escalator, a radiant smile on her face. When she got to the bottom she looked at her phone for a few seconds and laughed to herself. She put her phone back into her small clutch purse and began walking towards the bar. Once she climbed the few steps to the bar level she paused and began scanning the bar area. When our eyes met she gave me a devilish smile and began walking towards me. As she approached I took her in. She was five and a half feet tall with her wedges on. Her arms were very toned, not overly muscular but clearly she spent a good amount of time at the gym. Her sundress was low cut and showed off her very nice tits; a gold necklace with a key on it was dangling just above them. It was obvious that she was a real redhead, her arms and the area above her breasts were covered in freckles. I turned in my seat to face her when she stopped next me, she leaned in.
"Hello handsome, is the seat taken?" With her face only a few inches away from mine and the fact the she put a lot of emphasis on the first two words it hit me; her breath had the unmistakable smell of cock, strong and musty. She continued to exhale forcefully allowing me to breath it in. It was intoxicating and I began to feel myself getting aroused.
"Well?" she asked again.
"No, no it is not." I managed to get out. She began laughing as she climbed into the seat.
"What's wrong? You seem a little flustered." Again she was emphasizing her words, forcing me to smell her cock breath.
"Nothing is wrong, just stunned by your beauty." I blurted out cornily. She rolled her eyes and laughed.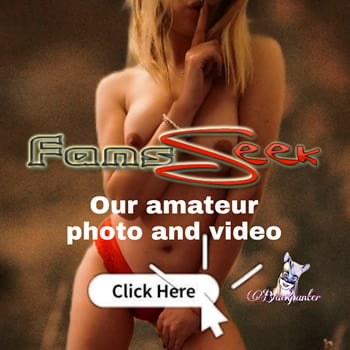 "God you're an idiot, why did I marry you again?"