Son shares the bed with mom, the surf pounds along with his heart, It is the middle of the night and Jon Mason returns from the bathroom. Sara sleeps on her back and the bright moonlight filters through the curtains casting a soft glow across her body. Through the open window, he can hear the roar of the surf. The sheet, wadded and tossed towards the bottom of the bed, leaves just one of her feet covered.
He stands beside the bed with one hand resting on the headboard and marvels at how beautiful she is. At fifty-nine, her beauty rivals that of women a third her age. Her hair is long, straight, and the beautiful gray some women's hair becomes. Neither care that he is thirty-three years younger than she is. Neither care that she is his mother.
With each breath, her sumptuous breasts rise and fall. Her slim stomach and lovely mound remain covered with his orgasm. Her long slender legs lay spread apart, one knee slightly cocked to the side.
Jon stands for a few minutes just watching, his erection again begging for release, bobbing up and down occasionally, sometimes casting a shadow across her face as if it were making love to her mouth. He does not touch himself and instead, he saves it for her. He knows it will not be long.
Her arm reaches out slowly. Softly, her long fingers stroke the underside of his cock.
"I missed you. I missed this lovely cock."
"I know Mom. I had to…"
She interrupts and whispers. "I love the warmth of you next to me on a cool night. You're the perfect thing to cover me with."
Her fingers touch him all along his shaft as it rises and falls, and then she touches the large smooth head with a single finger.
"For some reason, I love this part the most."
She continues touching just the head, then her thumb slides over it once or twice before touching that tender place just under the tip. It is the hair-trigger for him. The one that will make him fire, shoot, unload. Her head moves a little, just enough to wrap her lips around the tip of his cock. He feels her suck and lick that wonderful spot with her lips and her tongue.
It is just a reflex movement, but his cock jerks upward and away from her lips. "No Jon." He senses her disappointment. It falls back down, where it had been. "Much better." She resumes her kissing.
His hand tightens on the headboard. His legs grow a little weaker. She senses his growing discomfort. "Lay next to me." She pats the sheet and slides towards the other side of the bed. He lies down and moves next to her. His hand rests on her mound. A finger slides gently through her labia until it pulls her clit up.
She gasps as he first touches it. "I love that," she whimpers.
His thumb touches opposite the finger and grasps her clit. "Me too. One of my favorite places on your body."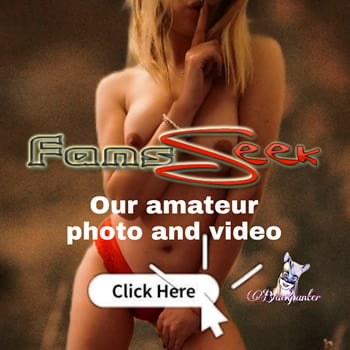 She kisses his mouth. Her tongue is deep inside, probing for his. They find, touch, and rub against each other. Seconds, maybe minutes, maybe longer, pass as their tongues make love to each other. She stops, and then sucks his lower lip between hers, then into her mouth. Her teeth nibble. She sucks it deeper. She lets go and nibbles more.