This is a true story you might want to read Polyamory 1 & Polyamory 2
The love and lust continue
Carol, John and I loved to go out dancing. There was a nightclub near us that had a live band Friday and Saturday nights. There were three levels of tiered seating as well as a bar and bandstand. We always sat on the third tier. Dancing and nightclubbing brought out the flagrant exhibitionist in Carol. She always wore scandalous clothes to the club. Her favorite was a knit clinging very short black dress with deep cleavage and as usual no bra.
We would get there late in the evening, usually after some very hot sex. Carol had just had her pubic hair waxed and it was very sensitive to the touch.
Sitting on the third tier gave Carol opportunities to flash her tits and underwear. She would sit facing the dance floor crossing and uncrossing her legs as her dress kept going higher and higher on her thighs. When we ordered drinks she would lean forward and her tits nearly fell out of her dress.
When Carol danced to a fast song she would throw her shoulders back empathizing her unbound tits and she would make obviously sexy moves with her hips. When she moved her hips the dress would flip up and her panties would show. Carol was a popular dance partner. When she slow danced with anyone she would put her arms around their neck, rub her erect nipples on their chest and hump her bald mound on their legs.
I loved watching her dance, especially with John. It looked more like they were having sex than dancing. There was a big hit that year from England. It was perfect for sweaty tight slow dances. When she and John danced to it her nipples were hard and protruding, her legs were wrapped around his legs and her chest was flush with desire. I could see her pressing her body to him and grazing his cock with her knee. John would press his erection on her mound. It always got me hard watching them dance.
When I slow danced with her I'd press my erection to her mound and whisper how much I loved our sex life and how much I loved her.
Carol was a favorite of the house band. She always managed to get right in front of the bandstand and sway so that her dress flipped up. Sometimes John and I would ask Carol to take her underpants off. She would go to the restroom and take them off. She would come back to our table and brazenly put her wet panties on the table. Carol loved dancing with no underwear on. At the table John and I would run our hands up her leg pushing her dress higher and higher. She kept crossing and uncrossing her legs giving everyone who looked a peek at her newly bald mound. The whole crowd knew that she was dancing with only her shoes and dress on. By the time we were ready to leave we were all very horny and in a hurry to get home for some very hot sex. On the way home she would take one of our cocks out and slather it with her mouth.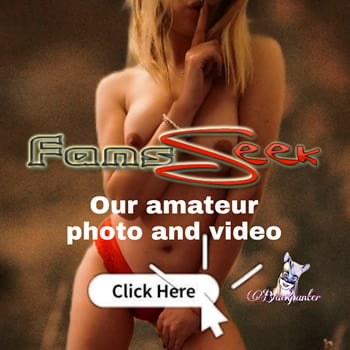 When we got home we'd hurry into the bedroom and strip. Our favorite position on dance nights was for Carol to sit on my cock and John would get behind her and put his cock in her cunt. We all loved double vaginal sex. I could feel John's cock on mine and Carol's very full cunt hugging our cocks. When we came there was cum dripping on all of us.