Lilly came back with drinks and placed in on the coffee table and sat next to me on the couch.
"Come sit here baby" Hunter said to Lilly gesturing to his thighs. Lilly looked at me and I closed my eyes and signaled with my head to go ahead.
She stood still looking at me unable to understand. "Don't look at him baby, we have our own understanding, we have been sharing everything since high school, whatever is his is also mine.. Isn't is to Jimmy" Hunter said with a loud voice. I just looked down and shook my head. Now my wife was sitting on Hunter's thighs with her legs both on one side. Hunter's left hand was on her back rubbing it and his right hand stroking her bare thighs."So beautiful how did you end with such a dork?" Hunter asked Lilly.
"He was my professor" She replied. "Nice" Hunter brushed past her midriff and was now exploring her huge boobs barely being held by that tank top. Lilly looked at me and said "Jimmy?"
"Let it happen honey, It's for our own good," I said still looking down.
"Hell yeah! baby it's for all of us. "
Hunter now started to put his hands inside her top and squeeze her boobs vigorously. He lifted her shirt to reveal her ample bosoms. With one hand he was squeezing her right boob and with his mouth, he was sucking her left boob. Lilly was just looking at me with tears in her eyes. Not knowing exactly how to react.
He make her stand up and staring in her eyes, as he was undressing her shots. She held her hands tight to her chest. Then he slowly removed her red laced panties.They were looking amazing on her pale white skin. Hunter stared at her beautiful young vagina. She had a little red bush on top of her pussy. Hunter still sitting on the couch, raised his left hand to grab her left boob and his right hand pinched her little red bush and pulled.
"Aahhhh," Lilly said squeamishly. Closing her eyes she tilted her head. "Look at me" Hunter said, pulling her pubic hair harder and now also pinching her nipples hard. She obeyed. He was enjoying the pain in her eyes.
"Hey, Jimmy your wife has the same sheepish look that you had when we were in school. " Hunter laughed.
Suddenly, I heard another voice outside the house, "Hunter? where are you?" It was Chris, Hunter partner in crime. I guess he too got the job.
"I'm here" Shouted Hunter. Chris came in opening the door. "Wo wo wo… what do we have here" Chris said with a light in his eyes as he went on to close the door and bolted it.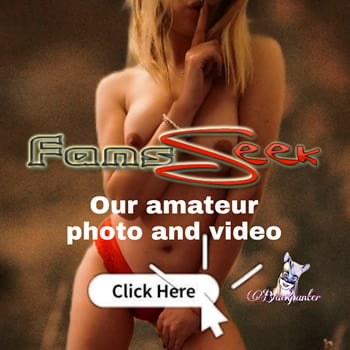 In front of him was a beautiful fair lady naked with her nipples and pussy hair being pulled.
"Guess what, our Jimmy got married so that we can have more fun," Hunter said now groping Lilly's boobs and massaging her pussy.
"Is that so Jimmy?" Chris jumped over the couch and placed himself behind to Lilly. He wasted no time and start rubbing himself against her ass and groping her huge boobs. "ummmm.. she smells so good.. I want to fuck the shit out of this bitch." Chris said. He was a huge guy with 6'4″ height and a muscular body. He was towering over Lilly. She looked like a play doll in front of him. "I can't wait no more" Chris, slapped her ass and went on to sit next to Hunter. he undid his pants and took his cock out. Hunter too pulled his dick out. He grabbed Lilly's hand and pulled her down to her knees. "Suck it bitch".