My wife and I recently attended a company Xmas party that her company put on for its employees. I was expecting a very stuffy, non-exciting bash (she works in the finance industry) and I was not surprised. It was a black tie affair and was very sedate, but we still had a very good evening. There was good food and an open bar, and at least all the ladies were in sexy party dresses and all the guys looked hot in their suits and ties. We had sat at a table of 5 couples, all of whom were women my wife works with. We ate, we had a few drinks, and we danced a few times, both with each other and with the opposite member another couple that was there. I really enjoyed Dancing with Gerry.
She is a very cute 23 year old girl (I am 30). She is about 5'6, with a very athletic body. Very tight, no fat, but unfortunately, not too much boobs either, maybe a 34-A cup. She has very deep blue eyes behind her gold rimmed "librarian" glasses, and long wavy blond hair. She was wearing a strapless knee length gown that was a multi-colored sequined number and it looked great on her. Gerry's husband Brent is also a handsome guy. He is around 6″ tall, and is the typical "tall, dark stranger" type. He wears his black hair short (ex-military type) and he has the olive skin and dark eyes of his Italian forefathers. Like myself he was wearing a suit, his being dark blue with a light blue shirt. I really enjoyed watching him dance with my wife Toni, who was in a sheer black spaghetti strapped dress that was low cut to expose some great cleavage from her 36 c-cup tits. Brent is a much better dancer than I am and Toni really liked getting out on the floor with him.
After about 3 hours at the party (about 9:30), we decided to head up to our motel room to have a few drinks and get better acquainted with each other. Toni and Gerry had been working together for a year or so, but Brent and I had never met before tonight. We went up to the room, chatting all the way. When we arrived, I flipped on the TV to a music channel, and began mixing drinks for everyone. We sat around the table and traded the usual small talk while we sipped our drinks. As I was mixing another round of drinks, Gerry suggested we should play some cards and offered to run to her room and get a deck. I said "No, don't bother I've got a deck in my suitcase". I intended to finish up the drinks and grab the cards, but before I could do so, Gerry walked over and flipped open the suitcase. Right on top near the back was a big, 9″ long, realistic looking, cock and balls dildo. Toni and I both might have died right then from embarrassment, and we must have turned 5 different shades of purple as we blushed. Everyone was quiet for a few seconds (it seemed like forever), then much to the surprise of everyone (even her husband I think), Gerry reached down and picked up the dildo. She held it up in the air and looked at it like it was a piece of nice jewelry or something and then said "now that's a big cock!"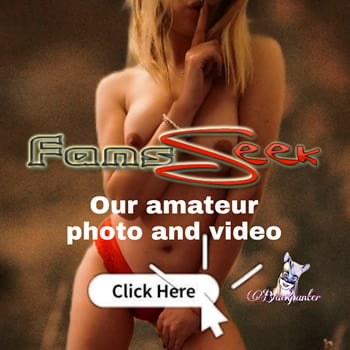 She looked at Toni and smiled, saying "don't be embarrassed, we have sex toys too, Hun." Then she put the dildo down and grabbed the cards.