Since before we married years ago my wife had turned me into a willing cuckold. Her sexy petite body with oversized breasts was a man magnet and she was addicted to strange cock. Tina was an outrageous exhibitionist and never lost an opportunity to expose her body to any man, old or young, black or white. She advertised in the local swingers magazine and was well known in the bars near our home, as an easy lay.
She claimed having me watching (discretely of course) while she met and made out with total strangers and then left with them was a major turn on for her. It certainly got my juices flowing to see them fondle her big breasts and see how eagerly she welcomed their hands into her willing pussy.
This evening she told me to drive her a truckstop, that she 'needed' some hard truck driver's cock. It was a cool night and she wearing a long coat, her spike heel 'fuck me' shoes and lace top thigh-hi's. Definitely ready for some good fucking in the big truck sleepers.
My excitement (and my cock) grew as we drove. Her coat was open and I caressed her damp pussy. I asked, "whose pussy is this?" Tina answered, "that's your pussy, Carlos". My next question was "who fucks my pussy?". Her quick reply, "any man who wants to" almost made me shoot my load right there. I was aching to fuck her but that was against one of our many 'rules'. Unlike some cucks, I was allowed to fuck my wife but only after her slutty fuck hole was filled with other men's cum. As long as she was fucking other men, friends or strangers, I had to wait.
We pulled into the big parking lot and she told me to park near the restaurant, away from the big rigs. She planned to hold her coat open and strut toward the trucks and said the first driver to see her and flash his lights would get her. She told me I was free to go into the restaurant for a snack or coffee or whatever as she didn't know how long she would be or how many truckers would use her.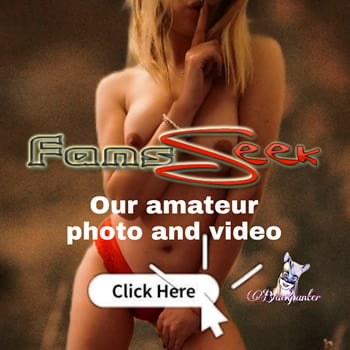 Knowing my wife and how horny many truckers can be I anticipated a long wait, likely all night. I watched her make her way toward the row of trucks and imagined the drivers watching her firm D-cup breasts bounce. And then one truck flicked his lights and then another and another. She quickened her pace then, so eager for a strangers cock. I could picture her big friendly smile as she climbed up into the dark truck cab. I decided to just sit in the car and watch for her to emerge from the truck and enter another. I wished, not for the first time, for a CB radio so I could listen to the truckers comment among themselves about Tina's appearance. The tall whip antennas on the truck she was in were whipping back and forth as the trucker fucked my wife. He must have been giving her a hard pounding to shake the truck that hard. I imagined I could hear Tina shouting in ecstasy, urging him on. The antenna movement was mesmerizing to me but after about 20 minutes it stopped and a few minutes later, after she had given the driver her phone number, the door opened and Tina climbed out. Now she was carrying her coat, fully exposed as she stepped from the truck's shadow into the lights of the parking lot. I knew how excited she was, knowing how many horny men were looking at her. She took her time walking past two big rigs and stopping to talk with the driver of the next one.