Ali had already cum and I was only seconds away when we heard her friend Wendy calling from downstairs. "Ali, are you up there?"
Insanely, I wondered whether I could cum before Wendy made it up the stairs. Ali took the decision away by rolling out from under me. "We're on our way downstairs," she called out.
"Okay," Wendy said, and we heard her ascending. I hesitated, and Ali shot me a look. "Are you fucking crazy?" she said with a laugh. "she could be back up here in a minute. Just get dressed and get down there. I have to get this thing back on," she said, gesturing at the wet bikini on the floor next to the bed.
I gave her a fake pout and slipped my swim trunks back on. I guess it was just as well she nixed my idea that we fuck by the pool. It seemed safe enough at the time: Ali's family was gone, taking her sister to college, and the only other person with a key was Ali's BFF Wendy, who was supposedly with her boyfriend today.
I jumped into the pool from about as far as I could without missing and killing myself. I needed a quick application of cold water, if you get my drift. Wendy was sitting on a deck chair alongside the pool, and I'm afraid I gave her a quick application of cold water as well. "Thanks for that!" she said.
"Sorry."
"Where's Ali?"
"Um, in the bathroom. She'll be right down." I climbed out of the pool and couldn't help noticing that while cold water had made my clothing more decent, it had had the opposite effect on hers. She saw what I was looking at, and draped an arm over her chest." "Sorry," I said again.
"You could have just told me to go," she said.
"What do you mean?"
"Seriously? You were upstairs, and now she needs time to get herself together."
"Um…"
"Sorry," Wendy said.
Ali came outside. Not in the skimpy red bikini she'd been wearing before, but in a dry blue one that might still drive me back into the cold water. "Sorry for what?" Ali asked.
"I can leave," Wendy said.
"No, stay," Ali said.
"I can leave," I said, sensing a girl talk moment.
Neither girl said anything for a moment, then Wendy said "No, you can stay." Then to Ali, she said "I need to change, though: your boyfriend thought I came over here for a wet-t-shirt contest."
"Help yourself," Ali said, gesturing at the house.
As soon as Wendy was inside, I asked Ali again "You sure I shouldn't go?"
"I guess not."
"What's going on?"
"Well, I don't know whether she wants to discuss it, but this afternoon Mike has the house to himself and they were finally going to…"
"Got it."
"So it didn't work out so she decided to come over here and cockblock us?"
"Toby, don't be such a– oh, you're kidding."
I slapped her playfully on the ass. "So do you think we have time for a quickie down here before she gets back?"
"Oh, stop it."
She joined me on the lounge chair and as we relaxed, I was taking a few liberties with my hand until we heard Wendy reappear.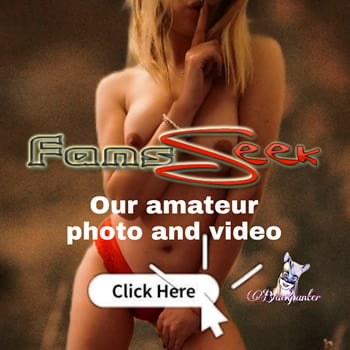 "I hope you don't mind me taking this one," Wendy said. She'd obviously picked up Ali's discarded suit. I'm not a good judge of these things, but I'd guess she was a cup size larger than Ali. The bikini top had its work cut out for it.