Exhibitionism, big breasts, a week of partying fun, gangbang.. Fantasy Fest is in Key West the last week of October every year since the mid 70's. It is a week long celebration of fun, nudity, imagination, costumes, music, food and themed parties, culminating on Saturday evening with the Captain Morgan Parade. The party grows all week until the final Friday and Saturday when it doubles with people flowing in from Miami for the day or weekend. Where Madri Gras in New Orleans has become very young, the Fantasy Fest has had a yearly theme and diversity of age, with both lookers and participators. Duval Street is the center of the Fantasy Fest Universe and by mid-week gets closed to traffic. People go bar hopping many taking their refreshment with them and walk Duval. It grows in intensity as the day and week goes by and reaches full intensity in the evening. Many people just walk Duval or sit in the many sidewalk bars and restaurants people watching and taking pictures.
Body Painting is an art and the best artists come from all over to work Key West the week of Fantasy Fest. We have gone several years and I love to get body painted. I have huge hanging breasts, 40G and love to show them off. My favorite is a painted bikini top or intricate painted lace see thru top. I wear a short leather skirt, or a sexy dress with the top down and the whole back open to expose my ass and show I'm not wearing panties.
My husband takes lots of pictures of me walking Duval, talking and posing with lots of people in costume. In a lot of pictures everyone can see how big my hanging tits really are next to all these other beautiful tits. I'm a real exhibitionist and love showing off. There are four guys that come every year dressed as Hooter Girls with long hanging fake tits. I fool around and pose with them. They can't believe that my tits are longer than their fake tits and hang lower. One other thing, I have huge nipples and they are at the bottom of my hanging tits, pointing down and in at my cunt. Many guys have posed with me and held my tits up or put their hands on my ass or felt my pussy.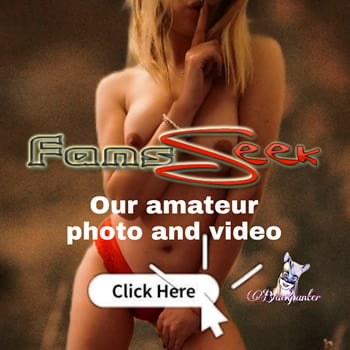 At last years Fantasy Fest on Saturday my husband was busy downloading pictures on the computer and uploading them on a couple of websites. I had an appointment to get body painted and walked down to the shop from the Pier House by myself. I had a beautiful black lace see thru top painted on and was wearing an open back black dress bottom. The artist did a great job as usual and when I was done I walked back to our hotel in Mallory Square. When I got on the elevator to go up there were four guys already on the elevator. Their eyes popped when they saw my huge tits and bare ass. They said, "Wow you look great". They couldn't believe it was a paint job. They told me this was their first Fantasy Fest and they came from the mid-west. They were very nice and good looking and I was getting wet. I told them I was very thirsty and was going to stop in the little inside bar at the hotel for a drink and asked if they wanted to join me. The bar was small and empty except for the bartender. We sat and talked and they bought me a couple of drinks. I was drinking Honey Bourbon and by the third one I was feeling really good. They knew I had no panties on and my dress was so short that they caught a glimpse of my shaved pussy.