Hi: I am about to tell you a true story that I am living right now, it started eight years ago, I mean that's when I found out at least, it might be longer but anyway that is when my torture started. I got hurt at work and I couldn't work for awhile, after a few weeks money started to get tied. My lovely wife of five years, two kids and neglected then; suggested that she should go to work because being at home together too long was frustrated besides we could use the money.
So she started to put aplicacións all over and taking to people she knows and the whole nine yards, a couple of weeks went by when she came and told me that her brother asked his friend if she could employ my wife and she said yes but the deal was that my wife had to travel one weekend a month, she would leave on Thursday and return on Sunday, then she asked me what I thought about it. I told her to do what she thought was good for her but I didn't objected, so she took the job; soon came the first trip I didn't see or noticed anything out of the ordinary, we had this routine that when ever she travels she would take with her a skirt to wear it on the way back so when we back to the car I would lift her skirt, pull her panties down and eat her pussy then leave, on the way home we would stop at the restaurant get her something to eat and keep going, getting back from the airport there are two truck stop where we usually stop fuck her there and keep going, sometimes we would go to the bar for a couple of drinks where I would fingerfuck her to get her ready to fuck again.
But this time I got fuck, because I cannot even help her with her travel bag, I couldn't get pussy because my back and neck are all fucked up. Anyway she took her panties off so I could do my thing with my fingers I got her really hot and wet and I had my cock so hard ready to explode that I had to stop at the truck stop and make her to blow my nuts up and this was the very first time I saw her swallow my cum and when she was done she looked at me and she said I love the taste of cum, and I went mmmmmmm; then she said 'your cum' and smiled, then I wandered what she meant with that. We left stopping at the bar on the way home I finger fuck her there and after she got a couple of drinks we headed home. The second trip came around soon, and that's when everything started, at least then was when I found out her other side. She was leaving as scheduled on Thursday, when she left she was wearing this sexy jeans and pump shoes which make her look sexy and vibrant looking like stripper.
Continue to Wife goes to work and brings back a creampie 2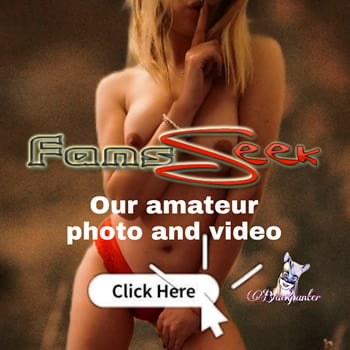 Added by Dunky