Six months ago while driving home from our weekly date night, the subject of sex came up. My wife, Lynn seemed pretty turned on so I tested the limits. I brought up the idea of a threesome. We talked about it for a while when it became obvious that she was thinking MFM and I was thinking FMF. I told her I was ok with MFM as long as there was no guy to guy contact. We then bet as to which way we would try first….she won. We set some ground rules and then life happened – which meant that, for a long time, nothing happened.
Then last month, I had a business meeting out of town and took her with me. When I left the hotel for the day long meeting, I saw a guy I used to work with from another job. Jeff was much older than me which now meant that he was pushing 50 to my 40 and Lynn's 30. Although he was 5'7 and stocky, he was always known as a ladies man. He had a magnetic personality and said all the right things to make women fall for him. He was too far away to say hi, but I figured if I wanted to say anything, he would probably be at the hotel bar later that night trying to get lucky.
While I was at the meeting, Lynn stayed at the hotel to work out and run. I picked her up for lunch and mentioned about seeing Jeff. She had never met him, but had recalled him being on my team. That's when I got the idea! I reminded Lynn about her fantasy and suggested that we stop by the bar later that night and see what happens. She didn't seem too excited, but agreed anyway saying that she would use that as a good excuse to get her hair and nails done.
That afternoon when I got back to the hotel, Lynn was waiting for me. She looked really sharp and had her hair up in a French braid and even a tight new sundress and wedge heels. We went to dinner and she said that she didn't want to come off as a husband and wife thing if we meet Jeff. She offered a story that she was from corporate and came to the meeting with me and that we had hooked up a few times before while on business trips.
Jeff was walking into the hotel bar just was we got back from dinner. I pointed him out but Lynn wasn't too impressed. I told her that he was quite charming and she could always signal a "wave off" if she wasn't interested. She shrugged and went to the room to freshen up and I went to the bar. Jeff was sitting at a tall table and, as usual, checking out all the women….well, both of them. He recognized me right off and I sat down to catch up. I told him that I was here on business and we were about to be joined by Lynn from "Corporate." His only question was if she was cute. As if right on cue, she walked in. He could not take his eyes off her and in a very low voice said, "Promise that this is her!" Lynn looked like a young successful professional who was also a solid athlete. Her blond hair still up in the braid extended her long neck, her blue eyes flashed around the room. Her 5'4 110 pound frame walked in with the confidence that she was the prettiest and smartest woman in the room.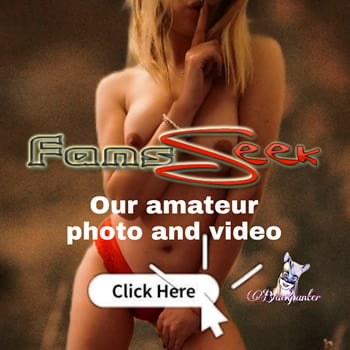 I introduced Lynn to Jeff and right at first, I was thinking this was going to be a bust. She was aloof and he didn't really pay much attention to her. After a bit, I went to the bar for drinks and when I got back, they were at least talking. He was playing her by not seeming interested. That sort of offended Lynn so she opened up first. As they talked, Jeff's familiar charm came out and which got Lynn flirting back in no time. About 8 o'clock, Lynn excused herself to the ladies room. Jeff immediately asked about her. I told him that we had hooked up a few times on trips and she had agreed for tonight as well. He just shook his head in amazement. I said, "ya know, last time we hooked up, she said she had a fantasy about being with two guys. I told her I was ok, but no guy to guy contact." Jeff nodded slowly in agreement and had a far away look. "If you're up for it, when she gets back, let's take this back to the room and see what develops." Jeff gave no response, so I wasn't sure he was really in. For that matter I wasn't too sure about Lynn, but she hadn't given the signal to stop. I then added that if he was up to it, I would let him go first with her. Also, as a heads up, she likes her guy to take the initiative and be self assured.