This is a true story about my first ever mfm threesome I had…
I had been having casual sex with a girl I met online for about a month. Her name was Danielle. She was short, curvy and could squirt like a fire hose.
She would often discuss exploits she recently had with other men with the knowledge that I was not jealous and aware of the fact that it was just sex… Rough, orgasmic sex, but just sex.
I asked what she thought of the prospect of being double penetrated by her two favourite cocks, mine being one of them. She said she had never done it before, but was very keen to participate. Having watched women in porn appear to be in ecstasy during double penetration, my curiosity was piqued.
Having the place myself for a good month, I figured it best to seize the opportunity and go for it. We would all be responible and use protection, so my mind was much more at ease.
Danielle arranged for her other favourite cock to meet us at the local pub. He had more experience in group situations than I and Danielle told me he was happy to guide a first-timer.
(To be clear, there was only intention for us to please Dani. We had no sexual interest in each other.)
After two beers and some conversation amongst the 3 of us, I decided to move things along back home. I had set up the guest mattress on the living room floor and well protected it from any pleasure juices the Dani may let off.
I ushered them both inside and onto the private balcony, where Dani wanted a cigarette. I stopped off at the toilet, my heart racing in anticipation for what was about to happen … "no turning back now", I thought to myself.
I walked down the hallway and out to the balcony where I saw Dani and guest kissing on the couch, his cock released from his pants being stroked slowly by her little hand. I'd never seen another erect cock with my own eyes before.
"Sorry, we started without you" he said humorously. "No problem" I said. I just walked over and sat on Dani's other side where she promptly unbuttoned my jeans and reached for my cock without delay. I was still a bit nervous, but more intrigued with what was about to happen.
Without saying a word, she dived her mouth down over my shaft and began to throat me. Guest witnessed the pleasure on my face and quickly ran his hands up Dani's skirt to start fingering her already soaking wet pussy. She began to moan while my cock muffled her hums of pleasure.
After making sure she'd throated me enough, she switched ends to throat Guest (whose cock was a bit bigger than mine, but I could maintain a far more rock-solid erection). It was now my turn to finger Dani and she was already slippery from the foreplay.
Soon enough, we rushed her into the living room where Guest and I were ordered to remove all our clothes by Dani. She wore a black corset with a red and black tutu which was hiked up so high you could see her round arse peeking out of it with very little effort.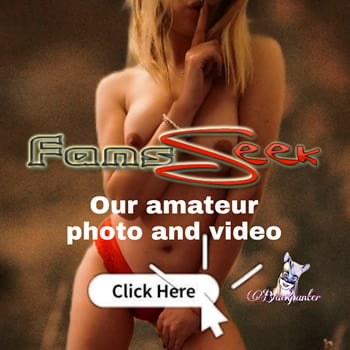 So there we were, Guest and I standing in my living room completely naked with both our cocks standing at attention awaiting instructions from the curvy black-clad whore kneeling on the mattress I prepared earlier.