Cheating wife, A man's wife gets a lot of attention at the public pool, erotic stories, I am 51 and my wife is 37. My wife has nice, firm tits and large nipples. We were spreading out the towels to lie on and I noticed 3 young men behind her enjoying the view of her ample round ass. As we lay down I informed her of her audience and she giggled. She asked which one and I pointed them out as they dove into the pool.
We lay there making small talk when I saw my wife open her legs wide on the towel and expose herself to the young men hanging on to the side of the pool. She sat up and started rubbing sunscreen on herself and I sat up to help. I took the lotion and rubbed her neck and back slowly, enjoying her soft smooth skin. I then unzipped the front of her suit about 3″ and slowly rubbed her chest while flickering with her nipples which were very erect.
She took the lotion and rubbed her legs and applied slowly on her inter thighs. She rubbed against her pussy on the outside making the young men stare in disbelief. She walked to the pool and down the steps and swam to the other side of the pool. As she swam I noticed more onlookers watching her plump ass in the water. She motioned for me to come and join her, which I did eagerly.
When I got close to her I noticed she had pulled her suit up into her crotch making a nice camel toe, showing off what she had. I kissed her and told her she was teasing more than me. She then gave me a peck on the cheek and swam on her back to the deep end of the pool. While swimming one of the young men bumped her and reached out to catch her before she went under the water, brushing her breast and thighs. He caught her in between her legs and around her waist. I knew he brushed against her pussy and felt her tits on his arm.
She stood up and he said he was sorry for bumping into her and asked if she was alright. She giggled and walked away. He stared at her and adjusted his cock in his shorts. The other two young men swam over to him and they started chatting away. I am sure he was telling them of her firm tits and soft legs. I saw them turn and stare as she walked to the diving board.
As she climbed up to get on the diving board she slid her fingers around the suit so dislodge her wet bottom and zipped up her front. The young men took off like rockets to the deep end of the pool and watched eagerly as she bounced off the board into the pool. She entered the pool like a pro.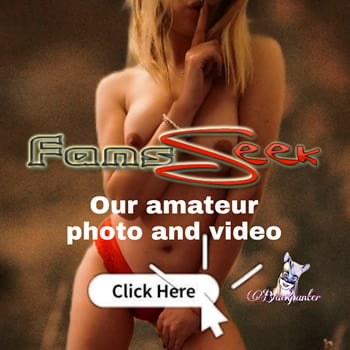 As she pulled herself out of the pool on the ladder she had 2 of the 3 young men right behind her. I saw her turn and talk to them but could not make out what they said. My wife and the 2 young men walked to the high dive and started up the ladder. The young man right behind her was staring at her pussy as she climbed up the ladder. She had to stop on the third step from the top to wait her turn in line. As she waited I watched as she again ran her fingers around the bottom of the suit adjusting it, but also giving the young men a treat. One of them then reached up and rubbed her legs and kissed her ankle.