Mother life, A single mother is employed as a young neighbour's slave, Donna Harris had a dull life: a single mother to a pre-teen daughter, trapped in a dead end office job, which paid minimum wage. She and afore mentioned daughter lived in a low rent apartment in a block that was as big as the Titanic and the iceberg that sunk it.
Over the few months that they had lived there, she had developed a sort of friendship with a bloke living on the other side of the block to her who only called himself 'Mickey'.
One day, she and 'Mickey' was on a balcony and she noticed a teenage boy going into apartment 667.
"Who's he?" She asked him.
"Who?" He asked her.
"667." She told him.
"Oh, you mean Tom." 'Mickey' replied. "He's a good enough bloke. Came into some money recently, so God only knows what he's doing in a place like this. But he's got an unusual turn-on."
"What?" Donna asked.
"He'll know I told you this," he replied, "but he likes tied up women.
He likes tying them up and he loves watching them struggle. He actually told me, once, that it would be great if he had a sex slave. He'd even pay them."
Donna thought about that for a minute; she needed the money and he's got plenty. Even if it requires unusual employment. Still, there wasn't a man in her life so why not?
The next day, close to sunset, Donna knocked on Tom's door. She knew 'Mickey' had arranged what could only be described as a 'job interview'. When the boy opened his door, he was a little surprised at first. The woman who stood in his doorway was dressed in the kind of black suit that you would normally expect for a job interview.
"Mind if I come in?" She asked him.
Still unsure, he said, "Sure."
As she stepped through the threshold, he looked up at 'Mickey's balcony. The man himself was there, then he noticed him and winked. It was then that the penny dropped. Soon, he was back in his apartment and the door was shut.
Inside the apartment, she was having a look around. On the counter in front of her, there was one of those masks some people cover their eyes with when they go to sleep.
"Nice place you got here." She told him. "I mean a lot better than m…"
She didn't finish. Before she could, a hand was clapped over her mouth.
"If you're serious about this," he told her, "don't make a peep."
With a hand over her mouth, she nodded. With his free had he picked up a strip of Duct Tape (he had prepared earlier) and replaced his hand with it, keeping her gagged. He then picked up the mask and placed it over her eyes, securing it in place with the strap. Next he positioned her hands behind her back and secured them in place with a pair of handcuffs.
With the restraints in place, he manhandled her to the bathroom. After locking the door, he turned back to Donna.
"Now, keep still," he told her, "I wanna check the merchandise."
He removed one of the cuffs and pulled off her jacket. next to come off was the tie, the shirt and her bra. He kept the black stilettoes but removed her belt, skirt and panties.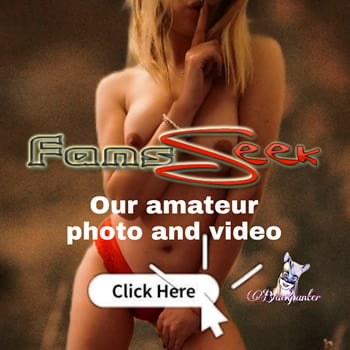 She kinda felt humiliated standing there, naked, blindfolded and gagged, but she needed the money. After checking her inside and out, he reattached the cuff and manhandled her to the bedroom.