Beth's New Ink, Hot wife gets a new tattoo, sex stories, Following the birth of our second child, my wife Beth was looking to regain some of the sexual excitement that existed before her pregnancy. She had always been a very sexual person, often being a willing participant in my wild fantasies. Beth had mentioned she always wanted to get a small tattoo – kind of her adulthood rebellion – so to celebrate the occasion of our real first date since parenthood, I purchased a gift certificate for a local tattoo parlour. When I did, I had explained to Tim, the artist who had done a great job on mine, exactly what my intentions were. I told Tim, who I always thought was a pretty good looking guy, that whatever happened with Beth when she came in was fair game. I would be there to videotape the occasion, but whatever happened, happened.
Beth set the date for her appointment with the parlour and thought about what and where she was going to get the tattoo. She decided that she wanted something that could be hidden when she needed to, but something both of us could enjoy. I suggested she get it just above her cunt, which I reasoned could be easily hidden by her bikini and in full view when I was eating her out. Beth was a little apprehensive at first, so I helped encourage her with a quick cunt licking. She loves having her pussy chewed on and whenever I want something, it's usually the best way to convince her to see things my way.
Her intention was to get a small flaming heart to symbolize her love and passion for me. When the day finally arrived, Beth asked me what she should wear. I told her that her best option was to wear one of her short skirts without any panties. This would allow her to simply hike up the hem while the tattoo artist worked away. At first she thought I was joking, but when I demonstrated how things would work – that if she wore pants she would have to remove them completely, leaving her feeling very naked – a skirt was the best option. I also told her that chances were very real I would be so turned on by the event that I would have to eat her out in the car before we got home.
I helped Beth prepare for the event by shaving her pussy clean. This was the first time she had ever taken her pubic hair right off so this in itself was a real tease for her. We went into our bathroom and she got into the tub, filled it with hot water and spread her legs for me. I began by trimming the hair down as short as I could with scissors before I switched to a razor. I took my time around her lips, occasional brushing against them. This was driving her crazy. By the time I was done, she was dripping with her own juices and her cunt was swollen with excitement. Beth begged me for a quickie before we had to leave for the salon, but time was against us. I finished my job and towel dried the area. I told her to wait before putting on her clothes and grabbed my camera. I snapped a couple of quick pictures for my private photo album before we left.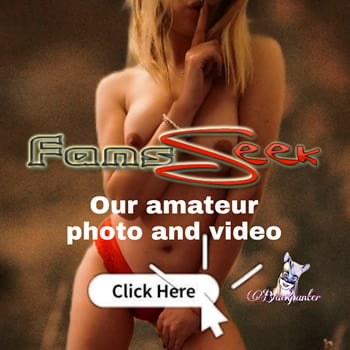 We arrived at the parlour a little early so Beth could get a good look around. Even though she knew I had one done there, Beth wanted to make sure everything was sanitary. I introduced her to Tim and I could see she was taken with his looks. My plan was coming together nicely. Tim showed Beth to the private salon where he would do the work. It was a room away from the reception area to guarantee privacy. It was pretty basic: a table containing the necessary supplies for tattoos and piercing, a stool for the artist and the chair for the subject.