We've been together now for 25 years, married for 23 of those, and despite the rare interruptions driven by work stress we still have a great sex life. Maybe that's because we always try to keep it interesting? Who knows, but we've often indulged in fantasy play and the occasional puff of weed has loosened inhibitions that in turn led to some pretty intense sex.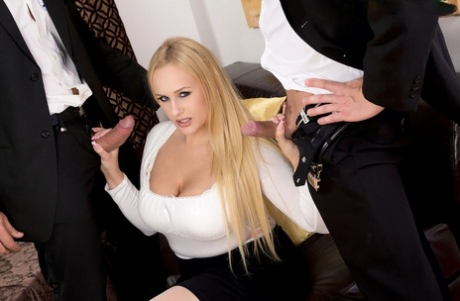 My wife is all woman; a gorgeous 5ft 7in blue-eyed, strawberry-blonde, 140lbs of curvy, with magnificent 36C breasts. That's how she was when we met and is today and she still excites me now at 55 years old, although most people think she's in her forties. Not a physical description that would fit with the imaginary world of porn where all woman are super skinny with DD boobs; but Nicole, with her French background also has a sparkling, chatty personality that draws people in with her not-always-naïve flirtatiousness.
Nicole is a super sensual woman and guys see that.
Me? Well my name's Neil and I've managed to stay trim and fit at 6ft and 180lbs; my hair may be graying slightly in a couple of spots but I've been blessed with a low level of body fat and I still wear the same size pants I did 30 years back.
Enough scene setting and back to the story…
I don't recall when it first came up; I think Nicole had once suggested, under the influence of weed, we share fantasies and I played along suggesting I loved to see her enjoying herself even to the extent of letting her become my Hot Wife so long as I could either watch or that she should tell me all the details. Some days later Nicole knocked on our bedroom door pretending that she had arrived at my hotel room – I was her lover that night and we both enjoyed the eroticism of our new game. It was a game that would play out again and again.
"Imagine if we would really do this" Nicole said as we lay in bed cuddling after another round of fantasy-driven sexual exploits.
"I'd let you…" I let the words hang. Then, "You have guys lusting after you all the time; it wouldn't be difficult."
I felt Nicole's body tighten against mine briefly, then she turned her face towards mine and kissed my lips, opening her mouth to invite my tongue. Her right hand slid across my abs and grasped my hardening member.
"The idea turns you on huh?" she asked playfully.
I swallowed and moaned slightly as I kissed her again, this time harder.
"Only if you tell me about it. I'd want to know details. No secrets." I replied, my arm across her back drawing her close.
Nicole's leg was already over mine, so it was an easy motion to slide herself across my body. She reached down to guide me into her as she pushed her hips towards mine; we had made love not long before, but we were both ready again.
"Ok…" escaped her lips in a half whisper, half gasp that made me push up into her. The idea alone was so incredibly erotic, I felt as if I would come almost immediately and as it turned out we both came pretty quickly in a flurry of thrusting, moaning, and kissing.
The whole idea of Nicole with another guy became a frequent, but not exclusive, part of our sexual games and fantasy play, separate to our lovemaking but more erotic, and either one of us could draw the other into a story at a moment's notice without difficulty or awkwardness. The total trust between us made the idea of it actually happening both unreal and totally possible, both at the same time, as contradictory as that may sound. So the day Nicole called me from the airport left us both equally exhilarated and nervous.
———-
"Hi Sweetie, I'm in the airport lounge. The points upgrade you arranged came through!" Nicole gushed on the phone.

"Cool." I replied. "You should have a comfortable flight. Depending on the type of plane, you might get one of those seats that converts to a flat bed."
"Mmm, I hope so! Wish you were here Sweetie, although you might be jealous." My happy sounding wife continued. "I was just chatting to our very handsome Captain."
"Captain for your flight?"
"Yes! Coincidence that he was just here in the lounge, there's not many people around, and we got talking. He said he might be able to show me the Pilot's Cabin where they get to…hang out…" her voice trailed off.