My wife and I got married at 18 yo and were soon in the swinger lifestyle. Lynn was a beautiful 5-8, 110lb, 34D-24-35 redhead and I was 6-5, 240, 9 1/2″. We started out with threesomes with some of our male friends. And from the very beginning Lynn was an avid exhibitionist but living in a small conservative town we had to go out of town to really do very much. So we started taking trips to larger cities every weekend.
Lynn was able to expose herself to lots of strangers making it look accidental in stores & things like that. And be bolder in our room by ordering room service or a pizza etc. She'd answer the door in very sheer lingerie you could see right through or when she felt a little bolder answer the door naked except for a garter belt & hose and heels. She'd stay behind the door until they were in the room and when she closed the door they'd see her standing there naked. I would be on the balcony or somewhere where they couldn't see me, but where I could see. Once inside she'd take her time getting the money to pay them and when she did she'd say she didn't have as much money as she thought. She'd say she had money for the food but not for a tip, then offer sex for the tip. She seldom got turned down. It was usually just a blowjob and they'd feel her up. But if she really liked them she'd fuck them.
One night when we were going to do this I'd been in the bathroom when they got there and didn't hear the guy knock so walked out of the bathroom as he's fondling her tits. He was scared at first but we quickly assured him it was fine and it turned into a threesome. She'd sucked us both off at the same time pressing our cocks together. Then we took turns one fucking her as she sucked the other off. And finally we did a DP and he fucked her in the ass as I fucked her pussy. As we were fucking her he commented on how good it felt having my cock pressed against his and said it was the first time he'd fucked a " girl" in the ass. About then I felt his hand on my ass and then cupping my balls. I'd had guys do this before and had guys offer to suck me off or for me to fuck them but I'd always declined, but was nice about it. But Lynn had been saying how much she'd like to see me get a blowjob from a guy. I guess because I'd seen her with other girls.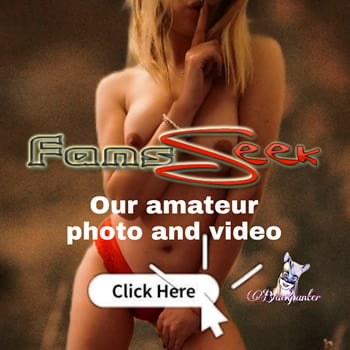 When we were ready to cum we pulled out and shot off on her tits & face. The guy didn't hesitate in licking up all of the cum. I'd seen girls lick cum off of her but this was the first time a guy had. But when he was finished he turned to where I was sitting and got on his knees in front of me. I knew by the look on my wifes face what she wanted. So I let him take my cock in his mouth and start sucking me off. I was surprised at how good it felt and him being younger than us kind of turned me on. I was 18 yo so I was rock hard again in no time. When he stood up and leaned over the bed and said he wanted my big cock inside him. I'd never even considered that. But I guess what they say about a hard cock not having a consience is true. In no time I'd put some lube on my cock and fucked his tight young ass for all I was worth. When I was ready to cum I pulled out and shot my load all over his ass. I sat back down and he came over with his hard cock in his hand and put his other hand on the back of my head. I knew what he wanted and I guess I figured I'd gone that far so I took his cock in my mouth & started sucking it.