First time cuckold (True story), my wife Jo and I have been married for 12 years now and although our sex life used to be quite adventurous, we have slowly become more and more conservative.
She is a beautiful 36 year old with light brown hair and a shapely body that I can tell other men find attractive.
I have always had fantasies about seeing her with other men, and enjoyed reading about wife sharing on the internet and in magazines, but only began to talk about them to Jo about a year ago.
Since then we have often enjoyed talking about my fantasies whilst we make love, describing how I would watch another man take her and make her cum.
About two weeks ago, whilst we were having sex, I was feeling that it wasn't particularly satisfying for Jo, so I started to talk about her trying another cock, just to see if I could get some excitement going. She started to kiss me passionately and was clearly eager to fantasise so I thought I would continue by suggesting that she think of who might be interested in her – just to push the fantasy a little bit further. She smiled a very sexy smile whilst kissing more and more passionately, grinding her hips toward me. I could tell that there were some very dirty thoughts going through her mind.
"You have someone in mind already, dont you?", I enquired, and her tongue went deep into my mouth before she pulled back with a sexy little giggle. "Maybe", she whispered and pulled me towards her as if trying to get me as deep as possible into her. "Well?", I asked, keen to play out the fantasy as Jo was clearly in the mood, "Do you think he would like to fuck you?". We began to kiss like we had never kissed before, she was incredibly turned on and I was about to burst. I slowed down my thrusting, fearing that I would cum any second and ruin the fantasy. "I know he wants to..", she whispered as I pushed slowly into her.
It was at this point that I realised that this might not actually be a fantasy that was going on in Jo's mind. "Are you serious?", I asked, desperately trying not to cum. I couldn't believe what I was hearing and I had never been so turned on and so hard in my life. "Have you talked to someone about our fantasy?", I whispered, hoping that the answer would be "Yes".
Jo began to kiss me harder again, her breathing becoming heavier, "I talked to Chris about it, he just needs to know that you are OK with it". I slowed my movements right down as I almost came as she spoke to me. "Fuck, yes, yes, I want him to fuck you senseless", I couldn't really believe that I was saying it, but it felt so good to push this, the most amazing fantasy was becoming real.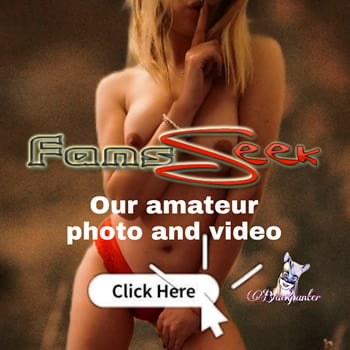 Jo pushed on my hips to stop my thrusting and whispered, "Pass me the phone". I leaned over to the side of the bed and passed the telephone over to her. She dialled a number and a few moments later began to talk. "Hi Chris, it's Jo. You know that stuff we talked about earlier? Yep…well Nigel is very happy with it. Uh-huh…I know…he says he wants you to fuck me senseless! Mmmmmm, that sounds good….OK, see you in 10, bye."