My wife Kammie and I were laying in bed one night watching the late news. She was curled up beside me with her head on my chest. I was gently massaging her back and she was rubbing my thighs. Eventually her hand made its' way to the top of the elastic band of my underwear. Her fingers slid inside and found my growing erection.
"I need to tell you something." she said breaking the silence.
"Ok, what is it?" I asked.
"Last week when I went on that business trip, something happened when I was driving home." she told me hesitantly.
"Let me guess, you got another speeding ticket." I said hoping I was wrong.
"Well I did get pulled over but I didn't get a ticket. I was worried you'd be mad about it but I felt like you should know." she confessed.
I shrugged, "If you didn't get a ticket, why would I be mad? You do need to watch your speed and not get any more. Our insurance is going to go up."
"I know and that is why I did what I did." she still had her hand in my underwear, gripping me.
"What did you do?" I asked nervously.
"Please don't be mad…okay?" she asked softly.
"I promise I'll try not to, but I can't promise I won't get mad unless you tell me what happened." I said.
Kammie then told me everything that happened, and I mean everything.
She had went out of state on a business trip. Her company was too cheap to buy her an airline ticket, but they let her drive a company car. She was having to go through lots of small towns and driving on two lane country roads. Kammie was anxious to get home but was still an hour from the interstate, in a very rural area. Up ahead, she saw a construction crew working on the side of the road. There were about six guys in neon shirts on the shoulder, and it looked like they were working on a drain that ran under the road. She slowed down, and eased over into the oncoming lane to give them plenty of room. When she got past the last orange construction barrel, she sped back up.
Kammie was about a mile past the construction, when she looked up in the rearview mirror and saw blue lights flashing behind her. She suddenly realized that she was in her company's car and she had already been given a few speeding tickets in the last six months. A wave of terror came over her. This could cost Kammie her drivers license as well as her job. She would at a minimum be looking at higher insurance rates, a write up at work, and another costly ticket.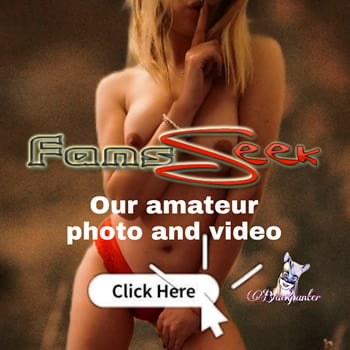 She pulled over to the side of the road and the police car did the same. Kammie had an idea. She hesitated for just a moment, she took a breath, then reached in between the buttons of her blouse and undid the front clasp of her bra. Kammie had just recently bought this bra, and she hoped it would pay off for her now. She managed to pull the cups down to the side, slightly off her breasts. Her blouse was white, with a company logo above the pocket, and although it was not thin, you could now slightly make out her rosy areolas beneath it. Kammie took off her seatbelt and rolled her window down, as the officer walked up beside her car and looked down at her.