Kimberly O' Brien was stretching before gym class started. All the guys in the class couldn't help but watch as Kimberly stretched. Even the girls eyed Kimberly's stretching. This was an everyday event for the guys and girls to watch Kimberly stretch. The 18-year-old had a massive bust.
Kimberly would notice her fellow gym students looking and glancing at her chest. Kimberly knew her huge 38EE cups were a spectacular sight. She had the biggest boobs in the entire school distract. Even some of the female staff was jealous of Kimberly's bust size.
Today would be a day that Kimberly and her gym class would never forget. As Kimberly continued stretching, she bended her back and thrust her chest out forwards. The weight of her huge tits really took its toll as her bra straps completely snapped. The massive support cups fell under her tits and they now hung down her chest with the nipples resting near her navel.
The guys in the class immediately felt their cocks harden as Kimberly's oversized melons jiggled and wobbled freely under her plain tee shirt. Her big nipples poked through the material of the shirt and Kimberly's face became red. Kimberly immediately cradled her boobs and run out of the gym. She felt embarrassed and knew this was one of the wrong times in her life.
Kimberly's mother Lucy came to the school to pick Kimberly up. Kimberly explained everything to her mother. Lucy decided that it was time for Kimberly to get a new bra because she might have outgrown her current bust size.
They arrived at Victoria Secrets. Lucy stayed in the car and handed her daughter her credit card so she could buy as many bras as she liked it.
Kimberly entered the store wearing her favorite hooded shirt. She didn't want her breasts to bounce obscenely in the mall.
"Can I help you miss?" asked a man in a squeaky girl voice.
Kimberly knew he was gay and could trust him.
"Yes. I'm Kimberly O' Brien and I'm looking to get my bust re-measured and to buy some new bras," Kimberly said.
The man felt a small prickly in his crotch.
"Nice to meet you Kimberly. I am Preston and I will be helping you this evening. So would you please follow me this way ma'am," the man said as he led Kimberly to a changing booth. "I will need for you to take off your shirts and bra."
Kimberly lifted her hooded-shirt over her head like the handsome, 30 something man said.
The man's eyes bulged largely as Kimberly's large chest thrusted forward. Kim's tits bobbed slightly with her movements. She still had on the tee shirt from gym class. She had discarded the bra back at home and figured there was no point in wearing any of her double E cup bras since one broke already.
"My my! Aren't we busty," said Preston.
His cock slowly became semi-hard.
"No wonder you need a new bra. Your breasts honey are huge!" Preston said as he couldn't take his eyes off them.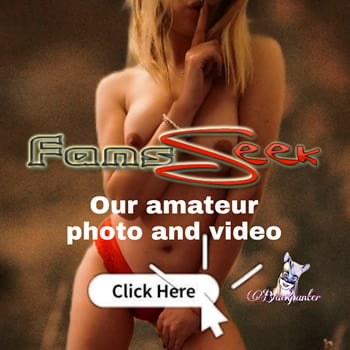 Kimberly grabbed the bottom of her shirt and lifted it over her head. Her enormous tits were lifted up and flopped back down. They jiggled wildly like a fish out of water. The "so-called" gay man's cock filled up the front of his jeans.